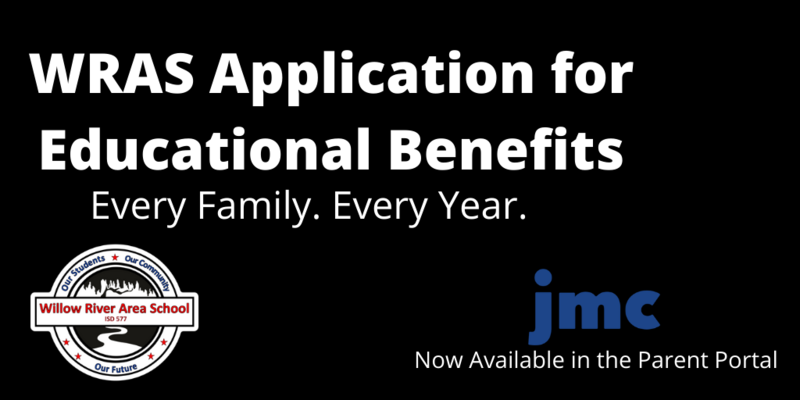 ALL FAMILIES WITH CHILDREN ENROLLED AT WILLOW RIVER AREA SCHOOL SHOULD COMPLETE AN APPLICATION FOR EDUCATIONAL BENEFITS EACH YEAR.
Applying matters! Information provided on Applications for Educational Benefits:
determines benefits for students and families such as no-cost meals at school and reduced fees for preschool

generates funding for our district each year and qualifies our school to provide additional services
The Application for Educational Benefits (formerly known as Free and Reduced) can be completed in the JMC Parent Portal.
Visit the JMC Parent Portal , select the 2020-2021 school year and login with your username and password.

Click on Register for 2020-2021, then click on Meals Application.

Follow the instructions to complete your online application.
An eligibility notice letter will arrive in the mail within 10 business days.
Paper applications are available HERE and they have also been mailed to district families. Save time and resources by filling out your application online today!
ADDITIONAL INFORMATION
One application needed per family each year.

This form used to be called the "Free and Reduced Lunch" form

The income thresholds are higher than in some programs, so many families are surprised to find they DO qualify.
If you still have further questions, please visit our Application & Payments FAQ.
For more information regarding student meal applications, visit the Minnesota Department of Education.