EDIT MAIN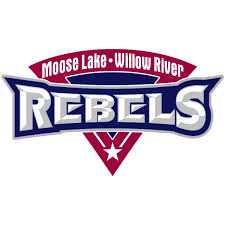 Recent Updates:
2020 ML-WR Football Spectator Policy
All Football Games have been updated under our "Events" tab on the Home Page.
***There will not be a Practice Bus on Wednesdays Distance Learning days.
Fall Sports Update: Football and Volleyball 9/28/20
2020-2021 Fall Athletics Update from Athletic Directors Jackson and Louzek
---
Willow River High School (7-12th) athletes participate in an athletic cooperative with Moose Lake Community School for most MSHSL sanctioned activities. Together we are the Moose Lake-Willow River REBELS!
This time-tested arrangement has provided the students of our district the greatest opportunity to participate, and compete at a high level, in a variety of sports for over three decades. Those sports are as follows:
---Click HERE for the words to our ML-WR Rebels Song---
Non-MSHSL sports available to Willow River Area School students:
Rebel Takedown Club (Wrestling)
Willow River Eligibility Requirements
Failing Grades: A student receiving an "F" at the end of a quarter or semester will be ineligible to participate in competition for two weeks (for each "F") from the date the Athletic Director receives notification.
Incompletes: Incompletes will result in ineligibility until they are made up. Prolonged excused absences will be dealt with on an individual basis by the high school principal and athletic director.
Grade Point Average: A student must maintain a quarterly or cumulative GPA of 2.0 to be eligible to participate.
Junior High Eligibility: The GPA criteria will not apply to Junior High students, but the failing grades and incomplete criteria will.
Mid-Quarter Grades: Ineligible students who raise their quarterly/cumulative GPA to 2.0 by mid-quarter will have their eligibility restored.
Practice: Students who are considered "ineligible" may participate in team practices, at the discretion of the coach.